Farm Cafe & Ice Creamery
Using only the freshest ingredients harvested from our very own farm or sourced locally.
Our Farm Cafe
Enjoy the finest food nature has to offer. We warmly welcome you every day from 9.00am NSW DLST, offering a diverse breakfast menu till 12 noon, transitioning seamlessly into a delightful lunch spread until 3.00pm. Our café does not require an entry fee or tour booking, so feel free to visit as often as you like.
Step into a culinary haven nestled amidst our stunning orchards, where our philosophy revolves around celebrating the exotic bounty of fruits cultivated on our very own farm. Our chef ensures each dish mirrors the freshness and authenticity of our harvest. With a deep-rooted connection to the broader farming community, our menu is meticulously curated to spotlight not just our produce, but also the seasonal best from neighbouring farms and renowned regional growers.
For those quick bites or dessert indulgences, our cabinets are bursting with fresh salads, wraps, and tempting desserts daily. Come join us for a meal that's not just about eating, but about cherishing the very essence of our land and the seasonal symphony it offers.
Please note that our menu, being deeply rooted in seasonality, is subject to availability, ensuring you always get the freshest of what nature has to offer.


View our seasonal menu here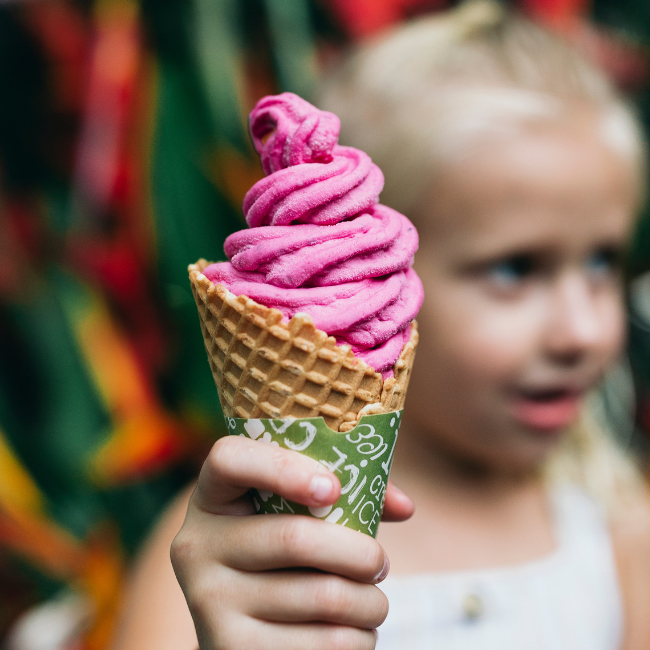 Farm Fruit Ice Creamery
Create your own fruit ice cream by choosing from farm produce. Your fruits are then combined with your choice of either vanilla or vegan coconut ice cream.