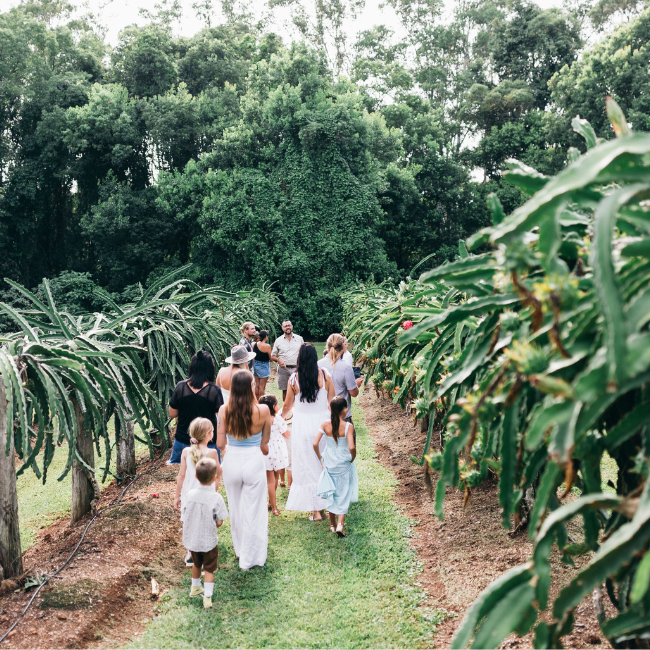 Opening Hours
9am-4pm every day of the year, excluding Christmas Day.

Prepare for your visit by reading our FAQ's below.
Am I required to book my tour in advance?

Yes, bookings are essential for all tours. Only limited seats available so please book before arriving to avoid disappointment.

However, if you don't want to go on tour with us. There is full access to our farm café, gift market, farm nursery and fruit market. These areas do not require payment to enter.

You can also purchase a picnic lunch, as well as drinks, ice creams and snacks from our on-site cafe to enjoy on the lawns whilst the kids play in the children's play area.

For all group bookings please email our friendly team to discuss at info@tropicalfruitworld.com.au
What to bring & wear on your visit

Tropical Fruit World is a working farm. Pathways and roads may be uneven in parts, with some dirt and loose gravel surfaces. We recommend that you wear comfortable, enclosed shoes.

Fine Weather
If you are visiting us on a sunny day, it would be wise to bring a hat and sunscreen as required.

Wet Weather
An umbrella or rain jacket would be useful in wet weather.  But we do sell these items on site in our gift market as for your convenience.
Accessibility

People who are fully confined to a wheelchair are unable to ride on our tractor train trailers or boat, making the orchard-based activities unsuitable. However our Fruit Tasting sessions and retail areas are accessible to wheelchairs.

Wheelchair-friendly restrooms
are accessible from the gift market shopping area as well as outside the Fruit Tasting pavilion. There are some tour activities which require guests to be capable of walking a distance of approximately 150metres. Our tractor-train trailers and our boat vehicle require guests to be able to move up (and down) steps to access them.

We do not offer wheelchair or stroller hire so please bring these items with you, if required.
Visiting with infants

Touring Tropical Fruit World with infants can be great fun but does require some preparation. We define an infant as any child under 3 years old, and less than
60cm tall and must be accompanied by parents who adhere to the following rules;

All infants booked on a tour are booked without a seat and must travel either in the lap of the adult travelling with them or be placed in a baby carrier front pack.
This also means that there is a limit of one infant per adult booked online. If you wish to book an infant with a seat or more than one child travels with one adult, each additional child must occupy a seat and be more than 60cm tall and able to sit upright without assistance.
Infants 0-3 will remain in baby carrier front packs whilst on the tour vehicles.
Those infants not in baby carriers will sit on their parents lap whilst on the tour vehicles, and no infant shall ever be seated on an outside seat on the tour vehicle.
Parents of infants visiting Tropical Fruit World shall supervise infants at all times while riding tour vehicles.
All passengers aged under 9 years old shall be seated on a seat row inside an adult not on the outside seat wherever possible.
Healthy newborn babies may tour after 60 days of delivery without medical clearance.

Travelling with your family is a great experience and we strive to seat families together
whenever possible. We look forward to seeing you and your family at the farm soon!
Do we need to bring food to feed the farm animals?

No, you don't need to bring your own food to feed our animals. We sell animal feed for visitors for $2.00, allowing you to hand feed our friendly farm animal family.

For the well-being and safety of our animals, we kindly request that you do not feed them any food other than what our expert animal carers provide.
Can we bring our own food on site?

We do not allow visitors to bring food on site. We have a cafe with full menu as well as our farm marketplace including fruit market, retail market with dried fruit, snacks and pantry items.

Access to our marketplace is completely free, so you do not need to have booked a tour to visit us.

You can view our farm cafe menu here.