Click on each team member to learn more.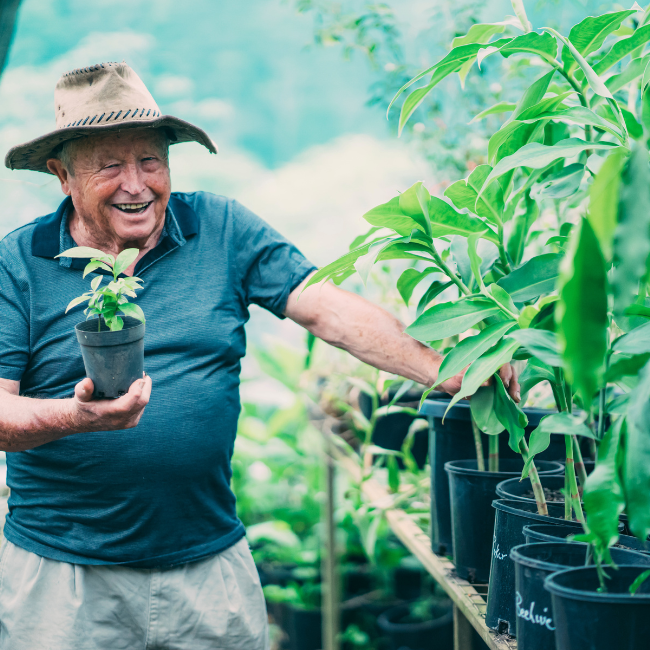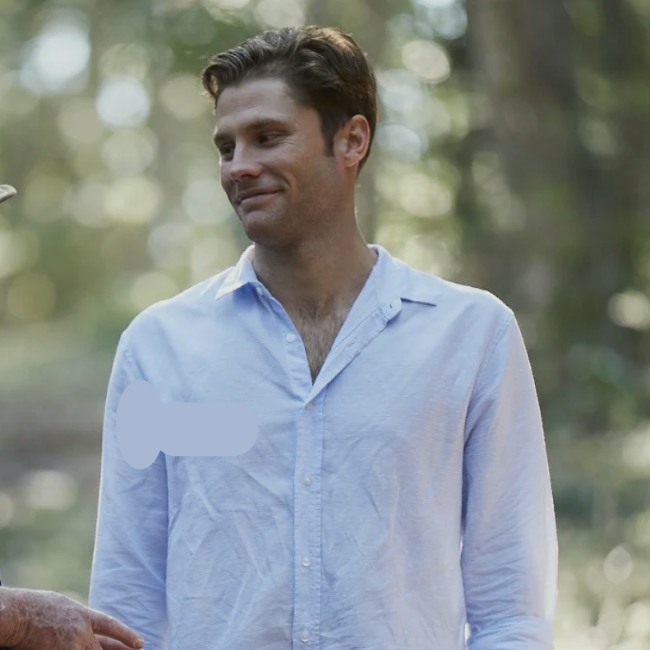 ✕
Aymon Gow – General Manager
The heart of Tropical Fruit World is our General Manager. Aymon embodies the very essence of our flourishing operation. His journey with us began over 27 years ago, starting as a humble Tour Guide. Aymon's unrelenting dedication and profound understanding of our unique farm have propelled him through various pivotal roles within our organization. He ascended from Tours Supervisor to Duty Manager, Farm Manager, and Operations Manager, finally onto the position of General Manager. With such extensive experience, it's no exaggeration to say that Aymon is more than familiar with every tree, orchard, and facet of our enchanting farm.
Credentials and Local Contributions: Aymon's dedication extends beyond our farm gates. He proudly serves as a member of the Business NSW regional advisory council and previously held the position of Chairman at Destination Tweed, a dynamic marketing body for the Tweed Shire. In 2021, he was honored with the title of a "local tourism hero" at the prestigious Destination North Coast tourism Awards.
Beyond the Farm: When Aymon takes a break from orchestrating excellence at Tropical Fruit World, you'll find him out on the waters, indulging in offshore fishing in the picturesque Northern Rivers. He also rides the waves along the pristine Tweed Coast, embracing the natural beauty of our coastal paradise.
Tropical Fruit Delights: Aymon's gravitates toward the Crunchy Jakfruit, a tropical treasure renowned for its delectable flavor and satisfying texture. But he also has a penchant for the Guisaro, a rare and exotic berry with a pineapple-infused Guava essence.
Aymon's unwavering commitment, extensive experience, and deep connection to our community make him not just the General Manager of Tropical Fruit World but a cherished and well respected cornerstone of our tropical haven, radiating an infectious spirit of kindness and always ready to share a hearty laugh. His dedication and warm spirit are an invitation for all to experience the magic of our farm.
✕
Elke Robinson - Executive Manager
Meet Elke, the driving force behind transformation and positive change at Tropical Fruit World. With a remarkable track record of over 15 years in orchestrating organizational evolution, Elke is an expert in aligning strategies, streamlining processes, and integrating technology. Her journey to Tropical Fruit World in 2019 followed a decade of impactful contributions to the Not-For-Profit sector. This prior experience fortified her commitment to fostering communities and making social contributions, passions that now flourish in her role here. Beyond her executive duties, Elke also spearheads TFW's weekly Farmers Market, creating a vibrant Saturday morning hub where local farmers, growers, and artisans showcase the region's freshest produce.
Beyond the Role: When Elke steps away from her TFW responsibilities, you will often find her in her sanctuary—the kitchen. Cooking serves as her creative canvas and therapeutic escape. An avid reader, Elke's downtime is a testament to her multitasking prowess, often engrossed in the pages of three books simultaneously, always seeking fresh perspectives.
Tropical Fruit Favorites: Among the array of tropical delights, Elke's heart belongs to yacon, affectionately known as the earth apple. She savours its crisp texture, subtle earthiness, and frequently incorporates it into salads or pairs it with hummus. Another prized favourite is the mamey sapote, a versatile fruit she relishes steamed, mashed with farm honey, sea salt, and a hint of wasabi—a perfect companion to a succulent steak.
Elke's leadership style, passions, and hobbies paint a vivid portrait of her value to our team and the enriching experiences that define Tropical Fruit World.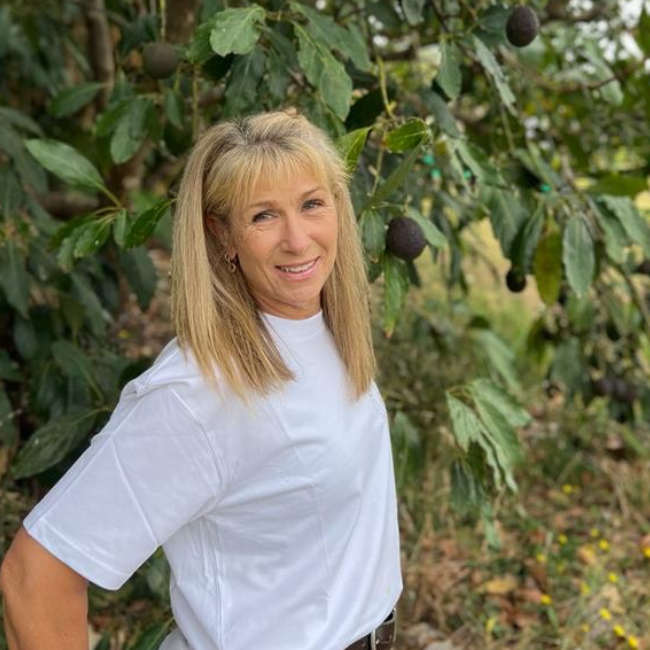 ✕
Jen Magnum - Accounts
Allow us to introduce Jen, our esteemed Accounts Manager at Tropical Fruit World. With a remarkable career spanning several decades, Jen's professional journey started in the realm of Merchant Banking. Moving up the ranks, she eventually took on the role of Manager in the Domestic Markets Division. Her career was marked by a passion for banking, finance, and administrative management. However, in 1994, Jen embarked on a new chapter in her life, relocating from Sydney to the captivating Tweed region, where she would soon become an integral part of our team.
Jen is not just a financial wizard; she's also the most positive and bubbliest person you'll ever meet, bringing brightness to the office every day. Her infectious positivity infuses our workplace with an energy that enhances our team's dynamics and work environment.
A Wealth of Expertise: Jen's diverse career has seen her excel in various roles, including Loan Writer, Book Keeper, Office Manager, and IT Administrator. Currently, she is at the helm of our accounts department, bringing her extensive financial acumen to ensure the smooth operation of our financials since joining us in 2010.
Beyond the Office: Outside of Tropical Fruit World, Jen has a few passions that keep her energized. She's an avid photographer, capturing the beauty of the world from behind the lens. And has a strong commitment to fitness, training at the gym most days of the week.
Fruit Favourites: Jen loves all of our farm fruit, but is particularly fond of our exotic Pitaya or Dragon Fruit varieties. Making her daily granola smoothie bowl with granola, topped with our farm banana and dragon fruit.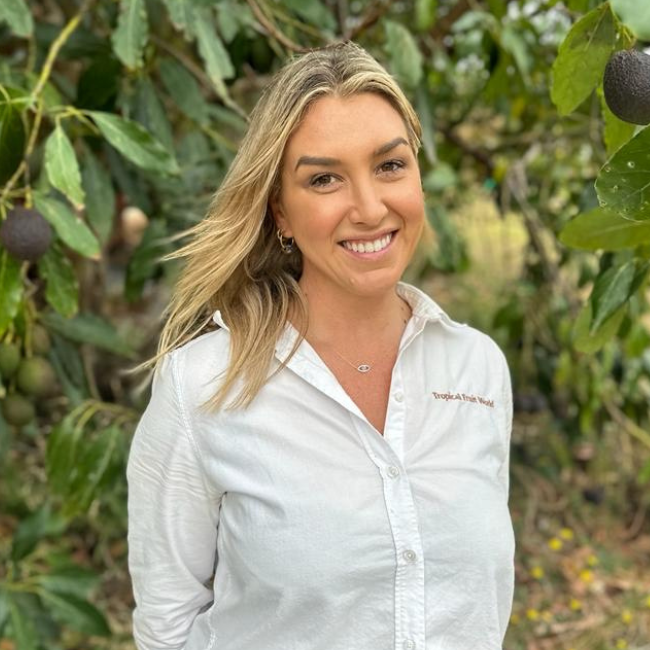 ✕
Chrissy Marten – Operations Manager
A dynamic and spirited force at Tropical Fruit World, Chrissy Marten joined our team in 2019 and has since become an indispensable part of our daily operations. With her keen focus on delivering unparalleled customer service, Chrissy uplifts both staff and guests with her positive energy.
Her roots in surf retail align well with her current role, allowing her to blend her love for the outdoors with her career. Always eager to learn, Chrissy continues to explore the rich agricultural and tourism possibilities that our beautiful region offers. Her blend of operational acumen and genuine interest in people makes her the go-to person for fostering a great team environment.
Hobbies: When she's not ensuring everything runs smoothly at TFW, Chrissy enjoys basking in beach time and sunshine, staying fit with cross-fit and group fitness training, and reconnecting with nature.
Chrissy's fruity faves are the Achacha, this fruit is sweet with a bit of a sour tang like a mango or peach as well as the delicious Lychee and Mulberry.
Chrissy's passion for top-notch service and community building truly sets the bar high, making her a pivotal piece in our ongoing mission to offer an unforgettable experience at Tropical Fruit World.
✕
Bella Rutherford – Marketing Manager
After a three-year stint in New York City to advance her marketing career, Bella Rutherford has returned to Tropical Fruit World, trading her former role as Operations Manager for her current position as our Marketing Manager. A Griffith University graduate, Bella possesses a wealth of knowledge that has proven to be a game-changer for our marketing initiatives.
Dynamic and results-oriented, Bella is passionate about showcasing the extraordinary offerings of Tropical Fruit World. Her marketing prowess is evident in her innovative strategies and knack for crafting compelling marketing campaigns that not only captivate our visitors but also propel our business forward.
Bella leverages a broad spectrum of channels—including digital marketing, social media, event promotion and unique community engagement approaches, to elevate our brand. Bella excels in elevating our brand and enriching your experience of the world we've cultivated. Her focus isn't just on visibility; it's on creating meaningful connections with our valued customers, both locally and globally.
Outside the Office: An adventurer at heart, Bella finds inspiration in her travels and her love for nature. From yoga retreats in the Costa Rican jungle to surfing the Western Australian coastline, She's passionate about exploring nature, and immersing herself in diverse experiences that often fuel her innovative marketing strategies.
Fruit Favourites: "For snacking, I love the delicious Achacha and for a tasty home made margaritas, the citrus-y Pomelo (I also love adding our Lemon Myrtle Syrup to my magaritas, it's made from our very own farm lemon myrtle leaves!)"
In her dedicated pursuit to showcase the lush and nutritious offerings of Tropical Fruit World, Bella is a transformative force in our marketing realm—captivating hearts and minds one campaign at a time.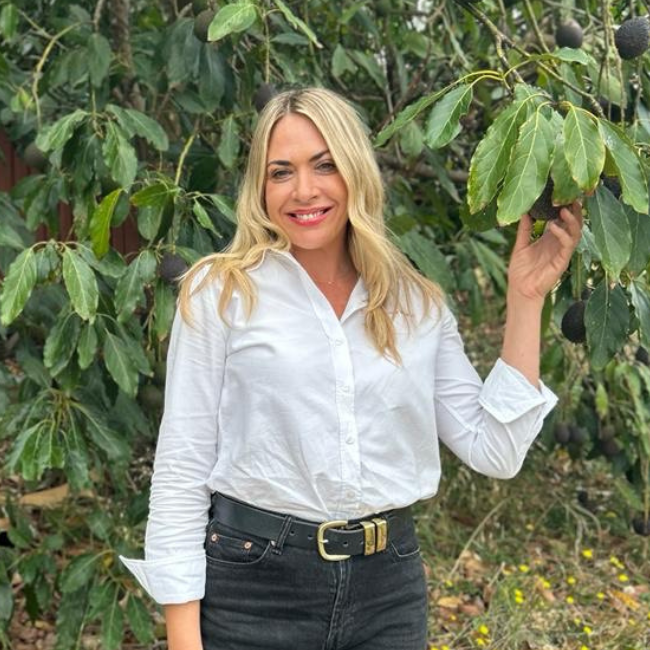 ✕
Shona Fuller - Sales & Promotions Manager
Meet the bubbly Shona, our driving force behind Tropical Fruit World's sales and promotions efforts. With a decade of experience spanning domestic and international trade sales, along with roles in local tourism organisations, Shona brings unmatched expertise and boundless enthusiasm to her role with us.
A Natural Connector & Socialite: Joining our ranks in July 2019, Shona quickly carved her place in the heart of our community. Renowned for her engaging communication skills, she effortlessly connects with individuals from all walks of life—a skill that shines in her sales endeavours. Shona's knack for fostering relationships is equalled only by her unwavering passion for our unique haven, Tropical Fruit World.
Beyond the Office: Outside the hustle of her sales role, Shona embodies the spirit of exploration. She delights in uncovering hidden gems at local markets and embracing the beauty of her surroundings. Travel holds a special allure for Shona, fuelling her insatiable curiosity.
Tropical Fruit Delight: Among the tropical wonders, Shona's fruit of choice is the versatile avocado. She declares no gathering or party is complete without the presence of this green marvel. As Shona playfully puts it, "When you're part of TFW, you're expected to bring the guac!"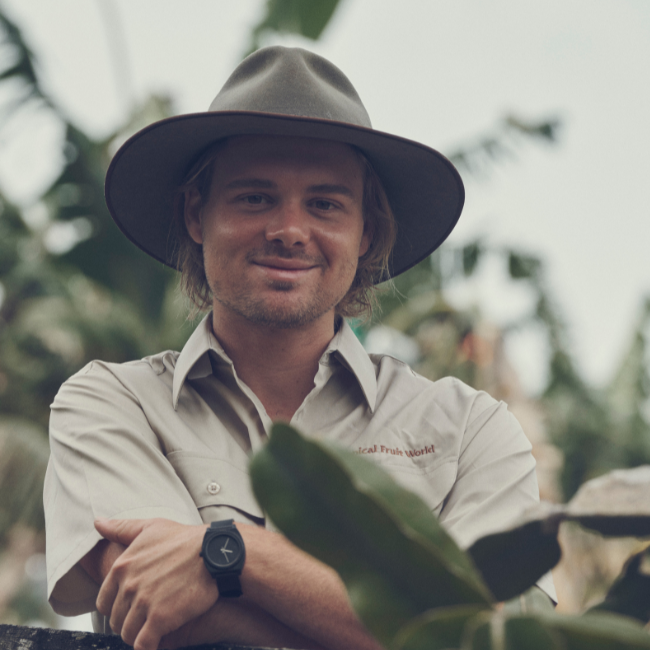 ✕
Joseph Smith – Farm & Packhouse Supervisor & Horticulturalist
Meet Joey, a cornerstone of the Tropical Fruit World team who rose from trainee to supervisor in just 5 years, thanks to his extensive know-how and enthusiasm. A Tweed native, his deep connection to the land inspired a career focused on sustainable horticulture here at Tropical Fruit World.
Credentials: Joey holds Certificates II and III in horticulture and is pursuing a Certificate IV in leadership. His expertise ranges from sustainable farming to water management and tree identification. He's also savvy in marketing our premium produce.
The Heart and Soul of the Farm: Joey infuses our farm with his infectious enthusiasm. His dedication to his craft is palpable, and his zest for farm life is evident in every task he undertakes. There's no mistaking his deep connection to our mission—it's almost as if he owns the place himself!
Beyond the Farm: Off-duty, Joey is an adventurer and musician. He's an avid surfer and enjoys playing guitar, but he never strays far from his horticultural interests.
Joey isn't just a supervisor; he embodies the perfect blend of passion and profession, welcoming visitors into the tropical splendour we cultivate.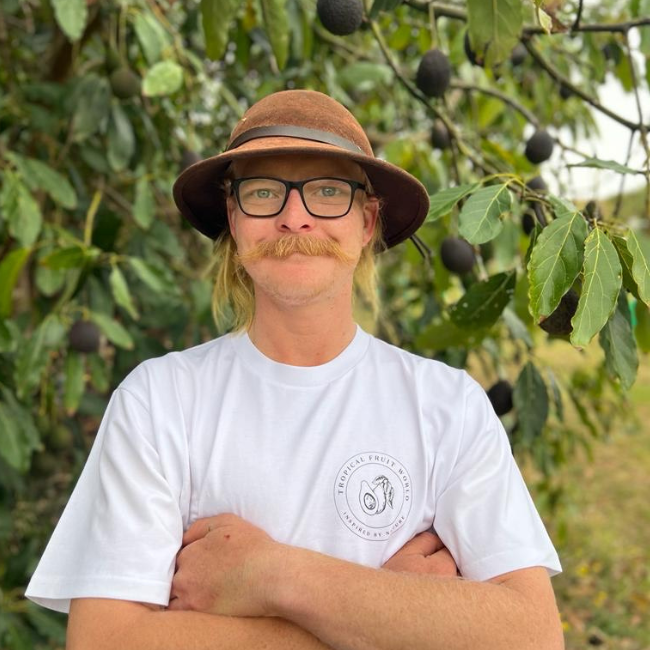 ✕
Brodie Crowther - Orchard Supervisor & Horticulturalist
Meet Brodie, our dedicated Orchard Supervisor. His journey with us began in 2015, and today he stands as an irreplaceable pillar of our team, holding the esteemed title of Orchard Horticulturalist. Brodie works his magic to implement the most effective growing practices for our orchards. With an intricate understanding of soil nutrients and natural fertilizers, he optimizes growing conditions, ensuring our fruit trees receive the highest level of care for the most delicious and generous yield.
Credentials: Brodie holds Certificates II and III in horticulture and has learnt most of his knowledge from working alongside our founder Bob and General Manager Aymon, Brodie delved deep into the intricacies of orchard health, nutrition, pruning techniques, and pest management. His profound passion for soil health and its direct influence on the quality of our produce is second to none.
Beyond the Orchard When he's not tending to our orchards, Brodie is an adventurer at heart. You might spot him barefoot in the orchards even on his days off. When he's not on-site, he's exploring the wonders of nature, particularly on the water, indulging his passion for fishing.
Brodie's connection to the earth and his dedication to nurturing our orchards make him an essential part of our team, ensuring that the taste of our tropical fruits remains nothing short of extraordinary.
✕
Lia Roodant – Nursery Supervisor & Horticulturalist
Meet Lia, a cornerstone of Tropical Fruit World's nursery operations since joining our family in early 2019. A native of Western Australia, Lia discovered her passion for horticulture long before relocating to the diverse Tweed region eight years ago. Now, she's an irreplaceable part of our community, sharing her vast experience and nurturing wisdom.
Credentials: With a remarkable 10+ years in the nursery sector, Lia is a bona fide expert in horticulture, holding a Cert III qualification in Production Nursery. Her knowledge is not confined to textbooks; it thrives in her own vegetable and flower gardens, as well as in the grafting and growing programs she spearheads at Tropical Fruit World. Lia is a fount of wisdom on everything from soil health to sustainable cultivation, taking a holistic approach that focuses on creating a well-balanced ecosystem where your plants can thrive.
Lia's passion for horticulture is infectious, as is her commitment to sustainability and education. She's not just helping plants grow; she's enriching lives by teaching us about the nutritional benefits and care of fruits, vegetables and flowers.
Beyond the Farm: When not in the TFW nursery, Lia nurtures her own garden and taps into her creative side through crafting. Her favourite fruits are Soursop, lychee and black sapote, which reflect her taste for the exotic and complex.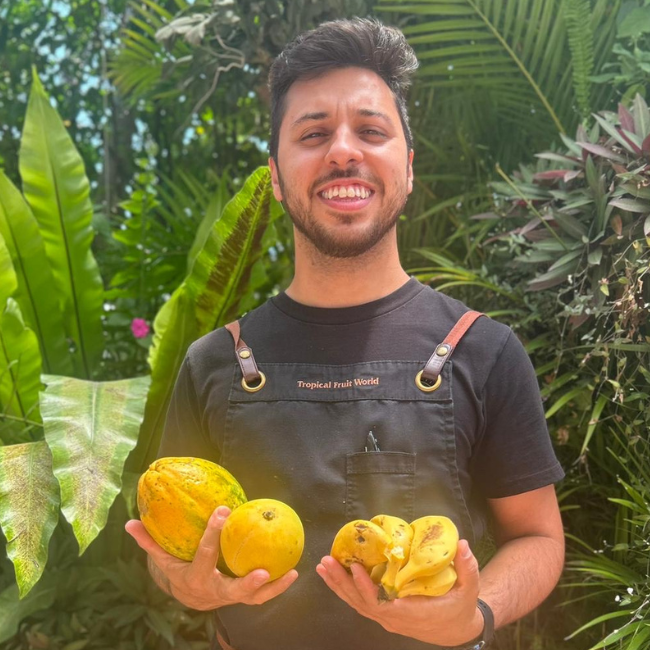 ✕
Lucas de Oliveira Andrade – Café Supervisor
Meet Lucas, a Brazilian native who's made Australia his home for the past seven years. Lucas brings a vibrant flair to our dining experience. From the first greeting to the last bite of food, Lucas's attention to detail and warm hospitality make our café a welcoming haven for all.
Credentials: With over six years of expertise in the hospitality industry, Lucas is a master of customer service, ensuring that every café visit is a memorable one.
Beyond the Café: When he's not delighting customers, Lucas enjoys Australia's natural beauty, whether he's enjoying the local beaches, spending quality time with family and friends, or taking his dog for leisurely walks. Lucas favourite tropical fruit world delights are the custard apple and soursop.
Come by and say hi to Lucas in our café!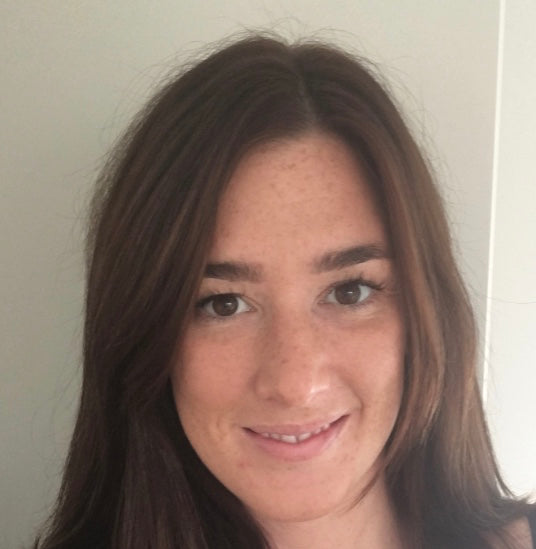 ✕
Erin Atkins – Tours Supervisor
Meet Erin, our Tours Supervisor and a true country girl at heart, hailing from the picturesque landscapes of Central Victoria. Her journey into the world of hospitality and tourism began right after high school, and for nearly two decades, she explored the nooks and crannies of Australia and ventured abroad, gaining invaluable experience within the industry.
Credentials: In 2022, Erin accomplished a significant milestone by obtaining a Bachelor of International Tourism and Hotel Management. This achievement has fueled her passion for promoting sustainable and inclusive tourism for all, aligning with her commitment to making travel experiences accessible while preserving the environment.
Beyond the Farm: Erin's zest for adventure is evident in her hobbies, which encompass anything related to the ocean, bushwalking, and cooking. She's also a dedicated enthusiast of live music and festivals, always ready to immerse herself in the rhythm of life.
Erin's commitment to sustainable tourism, coupled with her adventurous spirit and affection for our farm's produce, positions her as an integral member of our team. Her dedication ensures that every tour experience at Tropical Fruit World is enjoyable for the whole family. Don't miss the opportunity to meet our friendly and welcoming tours supervisor. You'll find Erin at our tour desk or fruit market where her favourite snacks are our farm bananas and farm passionfruit!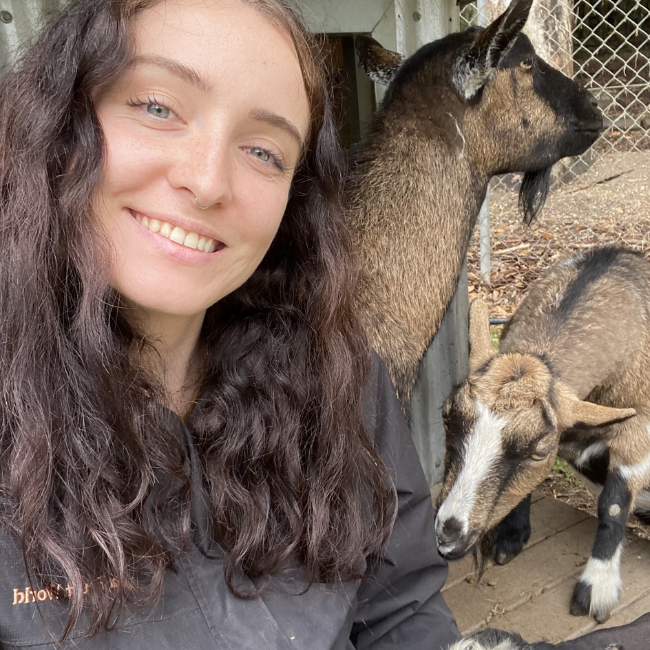 ✕
Kristen Haward - Fauna Park Supervisor
Meet Kristen, affectionately known as the "animal whisperer" of Tropical Fruit World. Since joining our family in 2023, Kristen has rapidly become an indispensable pillar of our team, nurturing the well-being and happiness of our Fauna Park residents with unparalleled dedication.
Champion of Animal Care: Armed with a Certificate III in Wildlife and Exhibited Animal Care, and currently pursuing a Bachelor's degree in Zoology, Kristen boasts a wealth of knowledge and hands-on experience in the realm of animal care. Her journey includes volunteering at esteemed organizations such as the Currumbin Wildlife Sanctuary Hospital and the Lone Pine Koala Sanctuary, setting the stage for her commitment to our Farm Fauna Park inhabitants.
Beyond the Farm: When she's not immersed in Fauna Park magic, Kristen dives into her passion for marine wildlife through snorkeling and diving escapades. Exploring new eateries and cafes is another source of joy, and she relishes precious moments with her beloved oversized pup.
Fruit Favorites: Among the orchard treasures, Kristen's taste buds dance to the flavours of the exotic Abiu and the alluring "Pink Panther" Dragon fruit. Ready to share her infectious passion for animals, Kristen looks forward to introducing you to our delightful furry companions.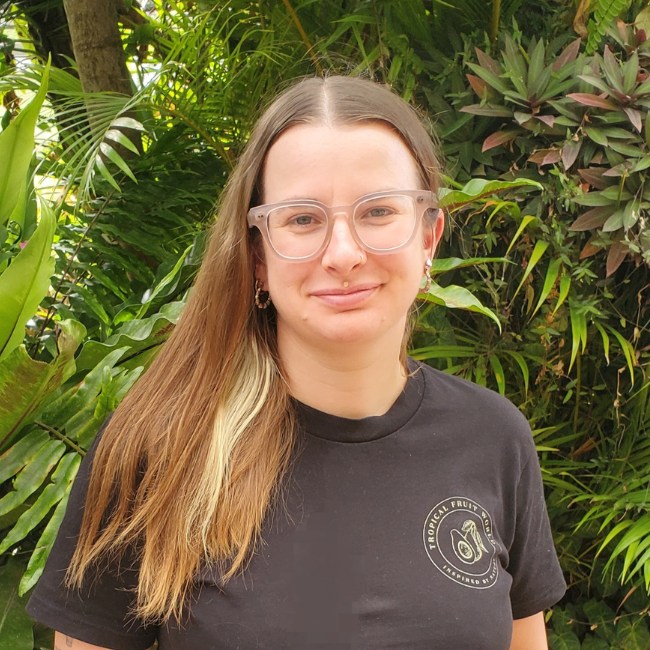 ✕
Olivia Belsey - Gift Market
Meet our Gift Market Supervisor Olivia, returning to the Tweed Valley a year ago, after living in the USA, where she pursued her passion as an artist. Olivia's journey is rooted in her deep commitment to sustainable and natural products. She believes in the significance of forming genuine connections and actively incorporates these values into her role, ensuring that our farm products resonate with our customers.
Creative at Heart: Beyond her role at Tropical Fruit World, Olivia is a creative soul. She enjoys hobbies such as drawing, sewing, painting, and various DIY projects, which showcase her artistic talents.
Fruit Enthusiast: Olivia has a unique taste for tropical fruits, with her top favourites being our famous farm Passionfruit and Custard Apples.
Olivia's dedication to sustainability, creativity, and her love for tropical fruits make her an invaluable part of our team, ensuring that our Gift Market offerings align with the values and tastes of our visitors. Say hello to Olivia and explore our Aussie made, sustainable and nature-inspired products on your next visit to Tropical Fruit World!
✕
Nik Epton – Production Supervisor & Chef
Meet Nik, the man orchestrating precision in our food production at Tropical Fruit World. Having joined us in 2023, Nik brings a unique blend of culinary expertise and military discipline to the role.
Credentials: Originally a chef, Nik's diverse experience in food production is elevated by his military background, equipping him with unmatched attention to detail, making him a standout when it comes to precision and quality. His unique skill set ensures that each product meets our high standards while maximizing efficiency.
Beyond the Production Line: When Nik steps away from work, he continues to explore his love for food by experimenting with new recipes and flavors. With Mango and Banana as his favorite fruits, you can bet he's conjuring up some tropical delights in his own kitchen.
Nik's keen eye for detail makes him a vital asset, ensuring that each piece of produce lives up to the Tropical Fruit World promise and ensuring that the fruits of our labor are nothing short of exceptional.