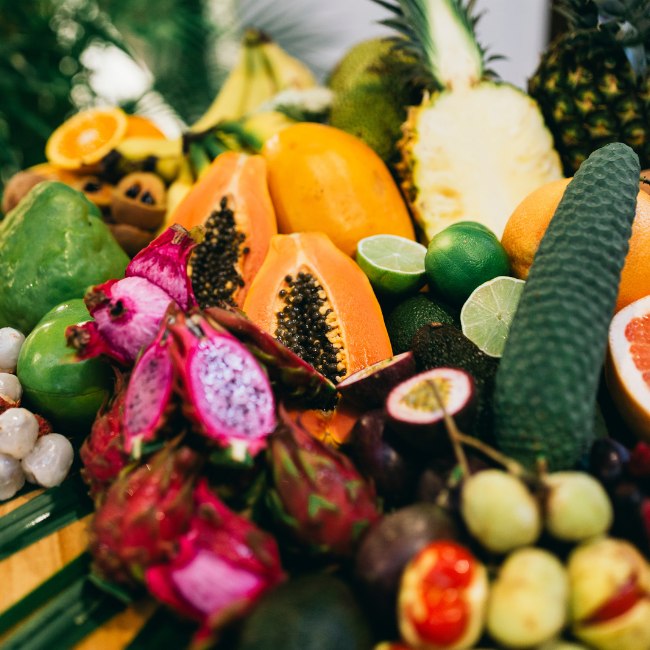 Fruit Market
It doesn't get any more fresh, healthy and tasty than buying farm fresh local produce from our fruit market. Most of the fruit you can see in store has been freshly picked that morning. Fresh from the orchards, straight to your home.
Every season brings a different selection of delicious favourites. What's yours – lychees, mangos, papaya? Or maybe you'll discover something a little more exotic on your tour, so tasty that you will want to take some home.
Our friendly, knowledgeable staff will be more than happy to assist in choosing the perfect fruit. They might recommend jaboticaba, jakfruit, or the beautiful black sapote, to name just a few.
Entry to our fresh Fruit Market is FREE, and it's open from 9am to 4pm Sunday to Friday and 8am - 4pm Saturdays.
What fruits are in season right now?

We grow more than 500 varieties of fruit on the farm, which have been collected from every continent and many different altitudes across the globe. When grown here in the sub-tropics they can crop somewhat unpredictably, and of course, as farmers we are at the mercy of Mother Nature. While we guarantee that you'll see loads of fruit varieties all year 'round, sometimes it's hard to predict exactly what you'll see at what time.

To get a general idea, you can view our seasonal calendar here.

Check out our newsletters for the latest harvest news and information, and keep an eye on us via Facebook and for updates.
Can we pick fruit when we visit?

Where possible (when a seasonal crop is plentiful) you may be invited to sample some fresh fruit from our orchard trees while on your farm tour.  During the tour you will see specimen trees from our collection of more than 500 fruit varieties. Unlike say, a strawberry farm which offers acres of one seasonal crop, our fruit harvest is sometimes not in commercial quantities and often somewhat rare. Because of this, we provide an opportunity to taste our fruits in season during our fruit tasting sessions.  Purchase of a Farm Tour Admission ticket is required to access the plantation.
How can I purchase your farm produce?

We offer fresh fruit for sale in our fruit market, and fruit trees for sale in our farm nursery. We also offer an extensive range of fruit-based products including jams and spreads, dried fruits and nuts, skincare and home products available for purchase at our retail marketplace or online store. All of our products are made locally or on site with our very own farm produce.

Shop
Talk about your brand
Use this text to share information about your brand with your customers. Describe a product, share announcements, or welcome customers to your store.