Our nursery is a living testament to the diversity and richness of Australia's flora, offering a plethora of plants that are nurtured with the utmost care and expertise.
Whether you're a passionate gardener seeking unique additions to your green spaces or a curious visitor looking to understand the origins of our delicious produce, our Farm Nursery provides an immersive journey. Each plant here is cultivated with the intent to thrive, ensuring they bring vitality and vibrancy to any space. If you can't make it to our on site nursery, you can always shop our online farm nursery store COMING SOON.
As caretakers of the land, we ensure that every sapling and seedling is grown sustainably, reflecting our deep-rooted commitment to the environment.
Our expert team is always on hand to guide, advise, and share insights, ensuring you leave with not just a plant, but a piece of Tropical Fruit World's legacy.
Nursery consultations are also available to book with one of our expert horticulturalists. See below for details.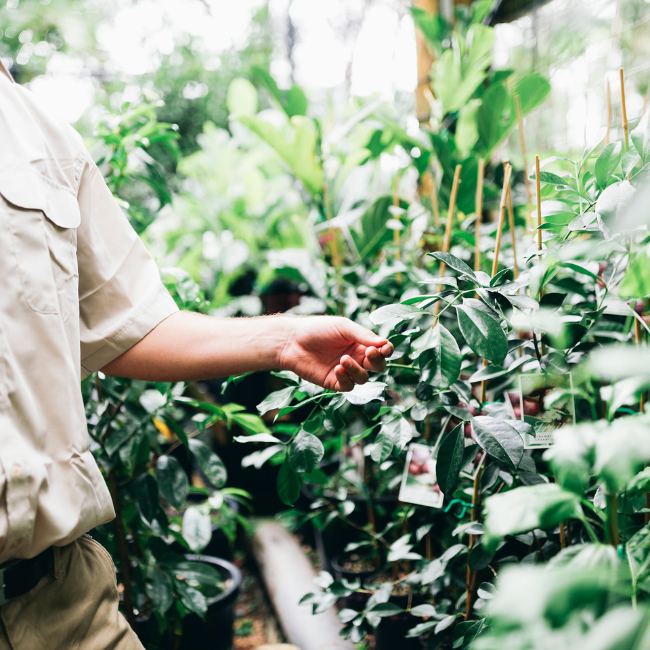 Nursery Consultations
Our nursery consultations provide visitors a truly insightful and informative experience, and just the Botanical Boost you need to master the perfect garden. Our expert horticulturalists are here to guide you in nurturing your green companions. Whether you're a seasoned gardener or just starting, our consultations offer personalised advice on garden care, soil health, watering, pest control, or whatever topic you need a helping hand to grow and nurture the perfect plant. 
Book by emailing info@tropicalfruitworld.com.au
Meet our Farm Nursery's, specialist horticulturalists below.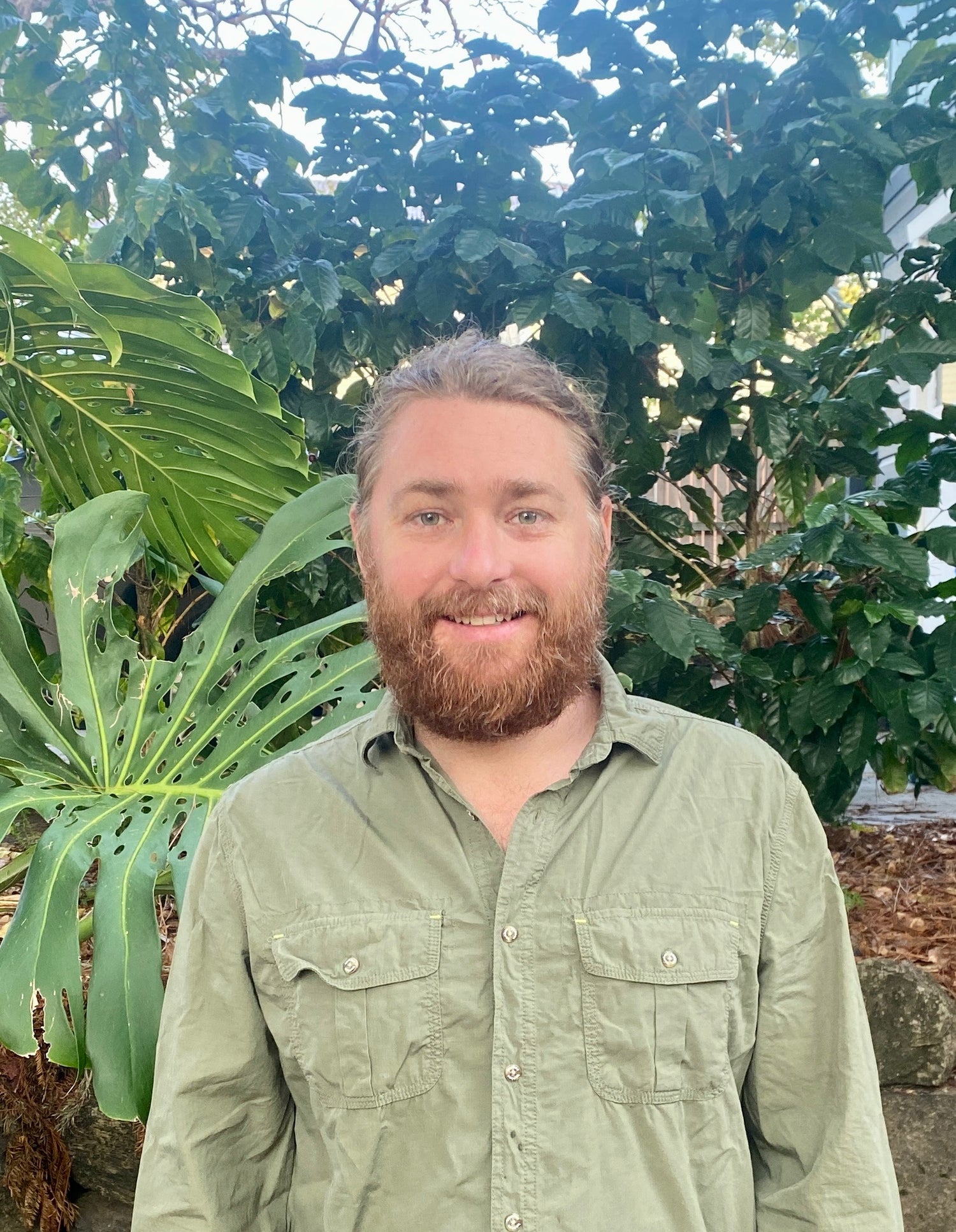 Dan
Meet Dan, your go-to expert for all things green and growing. With an impressive 17 years of experience in various horticultural fields—including nursery management, landscaping, bush regeneration, and small tree work—Dan brings a wealth of knowledge to your gardening journey.
His experience makes him an expert particularly in all things propagation, as well as understanding the genetics of what makes up the healthiest, tastiest and disease resistant plants/trees. He's also a specialist in setting up orchards and edible landscaping projects, not just in Australia but also in the United States.
Dan holds multiple certifications: a Certificate IV in Horticulture, a Certificate IV in Organic Farming, a Certificate III in Nursery Horticulture, and a Certificate III in Conservation and Land Management. His commitment to continual learning makes him a true master of his craft.
Dan's passion? Creating stunning, edible landscapes that not only please the human eye but also benefit our native wildlife.
Book a private consultation with Dan today to tap into his expertise and bring your gardening dreams to life.
To book, please email info@tropicalfruitworld.com.au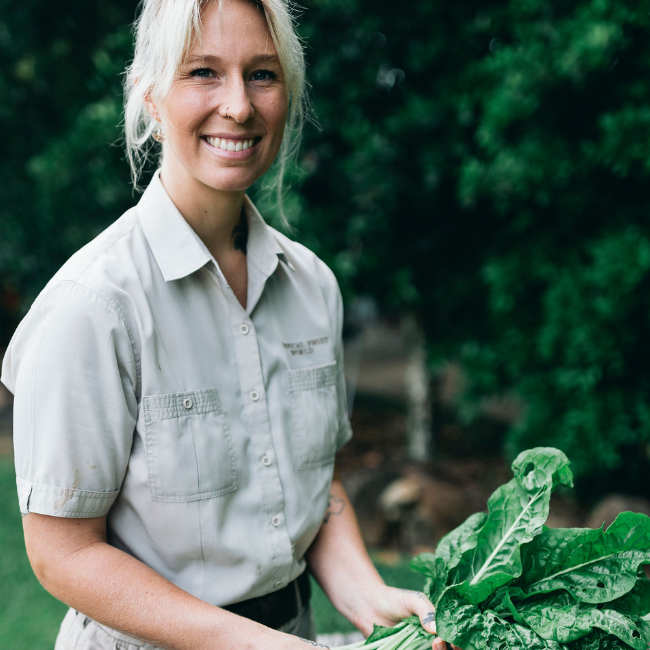 Lia
Meet Lia, your personal guide to transforming your garden into a thriving ecosystem. With over a decade of experience in the nursery industry, Lia is an expert Horticulturalist holding a Cert III qualification in production Nursery. She's more than just qualified—she's passionate.
From her own flourishing vegetable and flower gardens to the comprehensive grafting and growing programs she leads at Tropical Fruit World, Lia's expertise extends from the soil to the table. She has an in-depth understanding of the symbiotic relationship between soil and plants and is keen on helping you create a balanced, nutrient-rich environment where your plants can truly flourish. Lia is not just about growing plants; she's about nurturing an ecosystem, educating you on both the care and nutritional benefits of fruits and vegetables.

Book a private consultation with Lia to delve into the secrets of a successful, and sustainable garden.

To book, please email info@tropicalfruitworld.com.au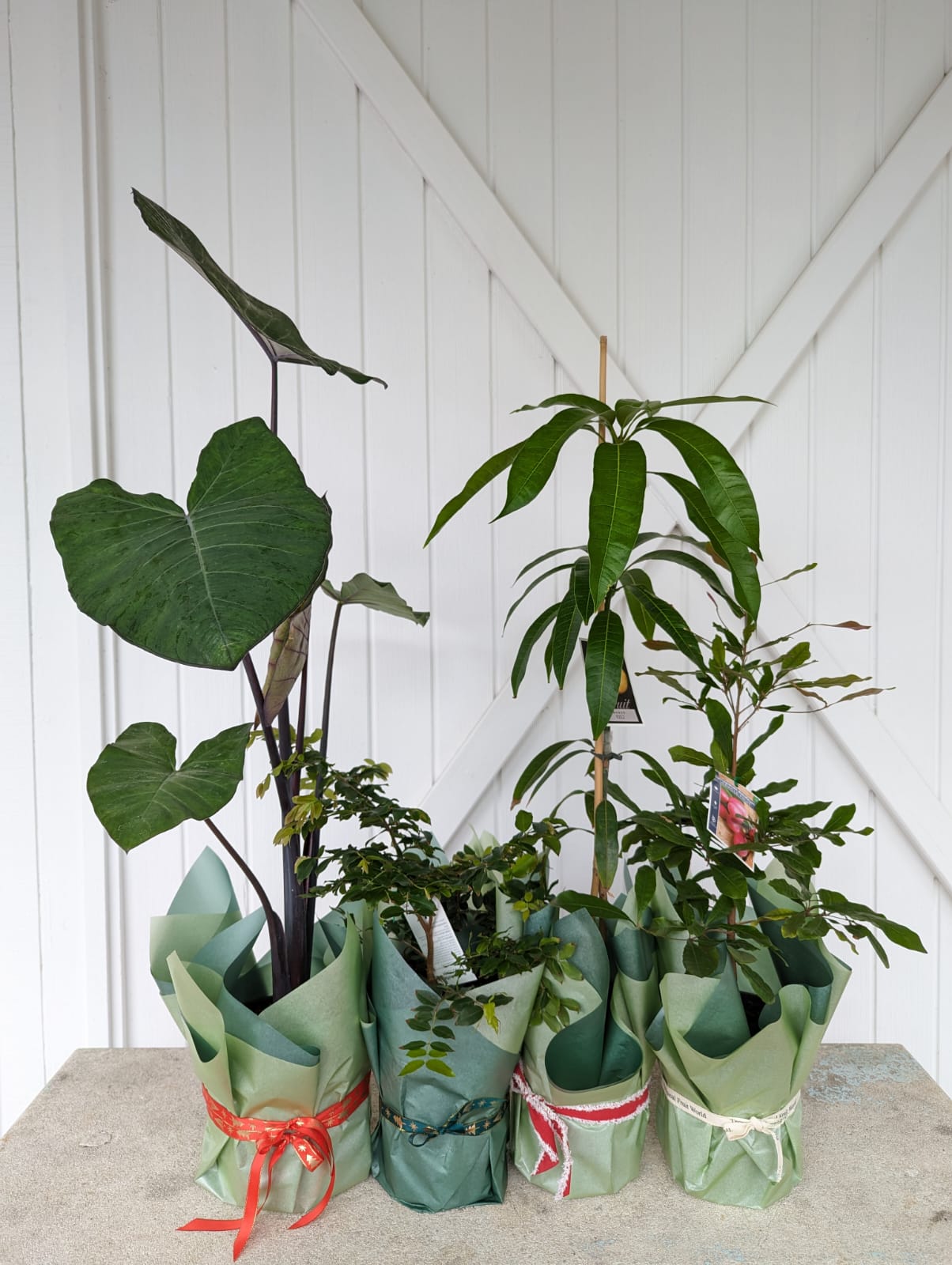 Pricing
In Person Consultations from 30 minutes - $75.00
40% of in-person consultation fees are redeemable back on fruit trees on the day of your consultation.
Phone Consultations
15 minutes $20.00
30 minutes $40.00
Please ensure to provide the following information for your nursery consultation:
1. In 250 words or less, briefly explain why you are booking a nursery consultation and if there are specific topics you wish to learn more about.
2. If you seek advice on plants you currently have at home, please take multiple photos to aid our horticulturalist during your consultation. 
These photos should encompass:
The plant's growth environment
Planting location
Soil conditions
Any pests affecting your plants 
Most importantly, clear images of the plants themselves (especially if they are unhealthy).
By providing this information, our expert horticulturalist can prepare in advance, enabling a more productive consultation where we can offer guidance on the appropriate environment for your plants and their care, including pruning, fertilisation, sun or shade exposure, and watering. Your comprehensive input will help us provide tailored advice for your specific needs.